email: mail@varnadancecollections.com
Varna Dance Collections

Kerala
M.G. Road Naduvilal, Thrissur, Pin - 680 001, Kerala, India
| | | |
| --- | --- | --- |
| Email | : | mail@varnadancecollections.com |
| | | |
| --- | --- | --- |
| Web | : | www.varnadancecollections.com |
Varna Dance Collections

Dubai
Al Shraifi Building-1, Near Day to Day & Baskin Robbins, Karama,P.O.Box - 120653 Dubai, UAE.
| | | |
| --- | --- | --- |
| Mob: | : | 0553747461, 05563772801 |
| | | |
| --- | --- | --- |
| Email | : | mail@varnadancecollections.com |
| | | |
| --- | --- | --- |
| Web | : | www.varnadancecollections.com |
Dubai : 0553747461, 04-3584555
Thrissur : 8714333691
About Us
varna dance collection
We at Varna are making all kinds of dresses which is needed to perform all kinds of stage programmes at reasonable rates. We are ready to make dress according to the order from the side of the customer. Orders from outside India are also being received by us. We attend all kinds of classical dance makeup according to the order. All kinds of classical and cinematic dance dresses are being rented at reasonable prices.
Our services include the dresses of Bharthanatyam, Mohiniyattam, Kuchipudi, Keralanadanam, Ottamthullal, Kathakali, Chaykyarkuthu, Theyyam, Thira, Kummatty, Thuruvattirakkally, Cinematic Dance, Cinematic Group Dance, Oppana, Margamkkally, Kollkally, Dhaff, Arabana, Adivassi, Assamy, Odissi, Rajasthani, Gujarathy, Punjabi, Kashmiri, Dhaddiya, Ghaggra Cholies, Carole Dresses, Curtains, Dramma Dresses, Marriage Ornaments, Crystal Ornaments, Coates, Welcome Doll and all other types of dresses for reasonable rent.
Make up
Facial makeup is an important separate art form in any performance. The facial make up plays an important role in cinema, teledrama, stage drama, dance drama and different other fields.
Globally acclaimed and accepted quality cosmetics are being used by makeup artists at Varna, which make you look wonderful, energetic and confident through the performance. We provide beautiful, artistic, accurate makeup for our clients making them more attractive, elegant and give him/her much more self-confidence and self-reliance.
We supply and design dance costumes taking in account the following.
The style of the dance, the budget, and comfort of dancer.
For classical and folk dance styles, the costumes are made in according to the traditions.
All types of costumes are made to make the dance movements look graceful.
We choose colors that flatter and compliment the dancer's body.
Testimonials
varna dance collection
My dance performance at Town hall on May 5, 2012 was appreciated by the audience and I got many compliments for the attire and accessories. I would like to thank Designers at Varna Dance Collections for beautiful costumes.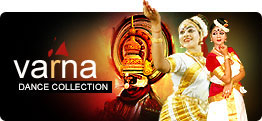 Service
Costume and make up form a very important aspect of any form of dance and dance dramas.